2018 FSASC Annual Conference & Trade Show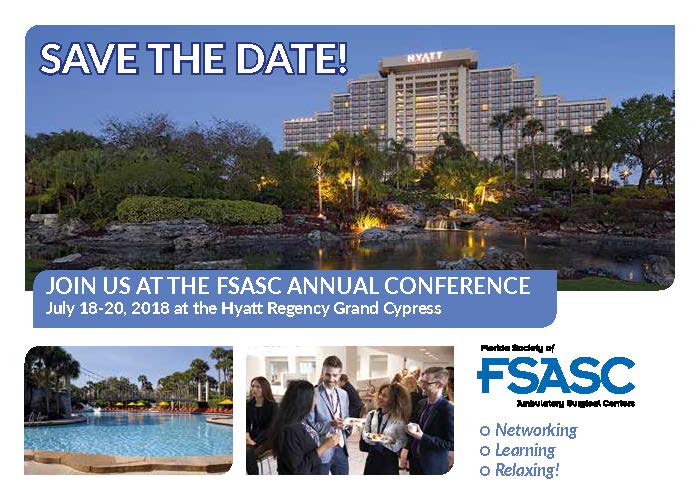 July 18-20, 2018
Hyatt Regency Grand Cypress

The FSASC Annual Conference and Trade Show will bring together ASC professionals with industry experts and vendors to interact at the Hyatt Regency Grand Cypress in Orlando, Florida! The diversity of topics from clinical to management to business provides something for everyone. Bring multiple team members and you can take advantage of multiple registrant discounts from the same center. So what could be better? Educating the team, socializing with them to enhance relationships and saving money! Join us at FSASC!
Thank you to our 2018 Sponsors and Exhibitors!
Gold Sponsors
Silver Sponsors
Bronze Sponsors
| | |
| --- | --- |
| | |
| | |
| | |
Exhibitors
3M
Adamis Pharmaceuticals/US Compounding
All Florida Compliance, LLC
BD
Cadmet, Inc.
Cardinal Health
CAREDirectLLC
CE-Tech
Clariti Health
Compression Solutions
deSoutter Medical
DH Biomedical, Inc.
Echelon Medical Capital
eClinicalWorks
Elite Radiology Service
Envision Physician Services
Essensa
Evergreen Medical LLC
GE Healthcare
Gebauer Company
gMed, a Modernizing Medicine Company
Halozyme Therapeutics
Halyard Health
Heartland Medical Sales & Services, LLC
Henry Schein
HST Pathways
Hybrent, Inc
ICONN Orthopaedics
ImageFIRST
Intalere
Inventory Optimization Solutions
IPG
ISS Solutions
JCB Laboratories - Fagron Sterile Services
Mason Blau and Associates, Inc.
McKesson
Medical Products Resource
Medical Technology Associates
Medline Industries
MedOfficePro, Inc.
MedTek, Inc.
MedVantage
Millenium DME
Mindray North America
Mobile Instrument Service
National Medical Billing Services
One Medical Passport
oneSOURCE Document Site
OrthAlign
OrthoScan, Inc.
PharMEDium Services, LLC
Precheck, Inc.
PreOp Medical Partners
Prescott's, Inc.
ProAssurance
PureTex Solutions
Riteway Services, Inc.
Seattle Technology: Surgical Division
Soothing Scents, Inc.
STERIS Corporation
Stradis Healthcare
SurgeryLink
Surgical Care Affiliates
Surgical Information Systems
Surgical Notes
Total Diagnostic Radiology Services Inc.
United Surgical Partners International
Venture Medical ReQuip, Inc.
Vincari
Welmed, Inc.
ZOLL Medical Corporation